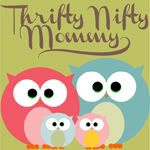 I'm sure I stand no chance, but sometimes I do win these things.
This is to win a free kids' CD from Maestro Classics, who have created a really good series of educational book / CD resources to help kids discover the joy of music (not just classical, though it's mostly classical). Find out more about Maestro Classics
here
.
Or just stop by
ThriftyNiftyMommy
to read a review and enter the contest anytime before September 30th!